Providing solutions for shade & weather protection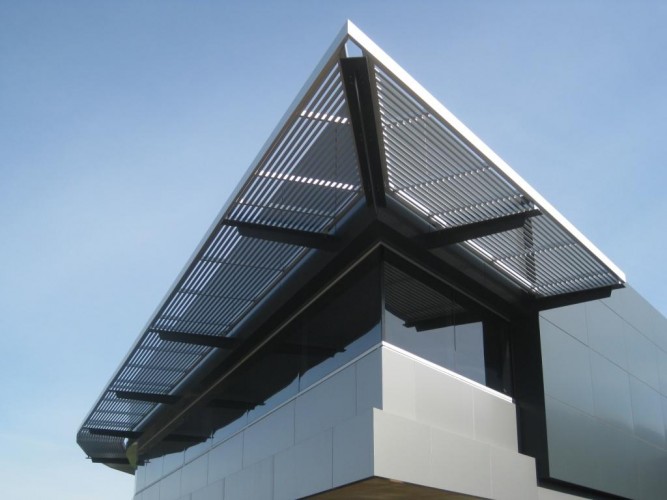 Aluminium awnings offer versatility to your outdoor living space, which have different options for operation, including internal and external controls. Whatever your needs, there is a sunscreen option to suit you, your home or your business.
Aluminium awnings deflect a large amount of heat that makes it the ultimate solution in sun protection. As well as awnings, outdoor blinds give you the necessary protection from the sun and rain, allowing you to have total control of your outdoor living space.
To see a full list of all the colours and finishing options please contact us for a consultation.
Fixed and Adjustable Louvres
Extend your outdoor living space.
Our fixed and adjustable louvre blocks the heat whilst still allowing the air to pass through its blades. The adjustable horizontal blades will allows you to choose the desired amount of privacy and shading you require.
Give yourself the option to have maximum light and privacy control with adjustable louvres that can manually adjust for your comfort. Allow as much or as little light and air flow to pass through the louvres with either external or internal control option for ease of use.


ABC Awnings & Blinds specialise in fixed aluminium awnings across Gold Coast and Brisbane
Alluminum awnings are considered a traditional choice that can repel up to 90% of heat, which would be transmitted through an exposed window. These types of awnings are extremely effective and a great choice if you're looking for a durable awning.
Choose from traditional styles or the latest modern designs, barrier screens or louvres. A comprehensive selection of colours are available, including matching or contrasting trims. Powder coating is also available if you desire something different to the standard colour range.
Add innovation & style to your home or business
We are committed to providing our clients with excellent service and superior products.